Happy Martyrs' Day 23rd March
Let us celebrate and inspire our youth on this auspicious day called as Saheed Diwas and is observed on 23rd March every year to honor all the freedom fighters of India.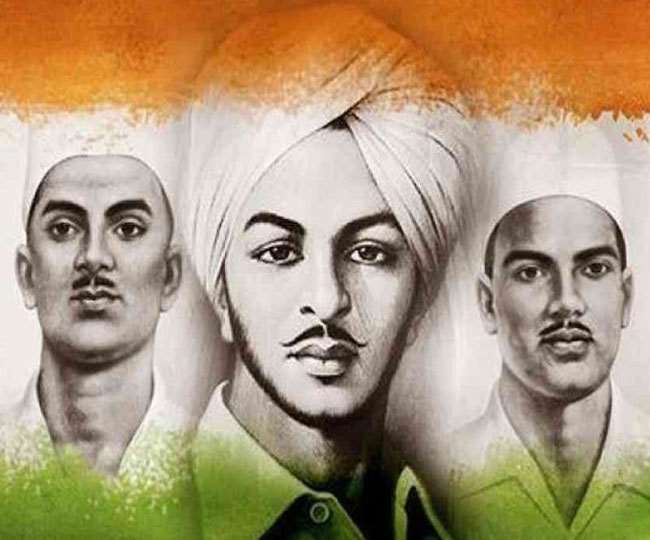 Bhagat Singh
Bhagat Singh was an Indian revolutionary freedom fighter who was hanged to death by British colonisers at the age of 23 years, known as 'Shaheed (martyr) Bhagat Singh', he is considered a national hero of India's freedom struggle against colonial rule. As a teenager, Bhagat Singh popularized the slogan of 'Inquilab Zindabad' which eventually became the Symbol of the Indian independence movement.
Bhagat Singh's Life
Bhagat Singh was born in a Sikh family in Banga village of Faisalabad district (previously called Lyallpur), now in Pakistan's Punjab province, on 27 September 1907. As his family was deeply inspired by nationalism, he too became actively involved in the country's freedom movements.
He quit education at the age of thirteen and got admitted to the National College in Lahore, where he studied European revolutionary movements. When his parents tried to get him married, Bhagat Singh left home for Kanpur. In 1926, Bhagat Singh established the 'Naujavan Bharat Sabha (Youth Society of India) and joined the Hindustan Republican Association (later known as Hindustan Socialist Republican Association). During that time, he met many anti-colonial activists.
In December 1928, Bhagat Singh, along with Sukhdev and Rajguru, planned to avenge the death of Indian nationalist leader Lala Lajpat Rai and plotted to assassinate the Superintendent of Police James Scott in Lahore.
However, in a case of mistaken identity, John Saunders, the Assistant Superintendent of Police was shot. To avoid being recognized and arrested for the crime, Bhagat Singh escaped from Lahore to Calcutta after shaving his beard and cutting his hair.
In April 1929, Singh and Batukeshwar Dutt bombed the Central Assembly Hall in Delhi, and shouted the slogan of "Inquilab Zindabad!". He was later arrested after the incident.
Execution of Bhagat Singh
Bhagat Singh and his revolutionary comrades Rajguru and Sukhdev were hanged by the British on March 23, 1931, in the Lahore Conspiracy case.
Today, 24 August, marks the birth anniversary of Shivaram Hari Rajguru, one of India's great freedom fighters.  The revolutionary, along with Sukhdev and Bhagat Singh, was hanged on 23 March 1931 by the British government.
Saheed Rajguru
Rajguru was born to Parvati Devi and Harinarain Rajguru on 24 August 1908 in the village of Khed, Maharashtra. As he grew up, he was inspired by the ideology of Lokmanya Tilak. Rajguru joined the 'Seva Dal', attending training camps at Ghatprabha. He later became a member of the Hindustan Socialist Republican Army.
He soon came in contact with Bhagat Singh and Sukhdev. The trio participated in the assassination of British officer John Saunders on 17 December 1928. Saunders was killed to avenge the death of freedom fighter Lala Lajpat Rai.
The three freedom fighters were later captured and sentenced to death. When he died, Rajguru was only 22 years old. Every year, 23 March is observed as 'Shaheed Diwas' to pay tribute to Bhagat Singh, Sukhdev, and Rajguru.
Rajguru's birthplace has been renamed as Rajgurunagar. His ancestral home is now known as the Rajguru Wada. The Hutatma Rajguru Samarak Samiti (HRSS) hoists the national flag every year at Rajguru Wada on the occasion of Republic Day.
This was the declaration of the Congress Party in the Karachi Session, regarding the hanging of Bhagat Singh, Sukhdev, and Rajguru, in 1931. The history of Indian revolutionaries and their contribution to India's fight for independence play as important a role as that of the non-violence movement practiced by Mahatma Gandhi and his supporters.
According to historians, they were in fact the "forerunners of many plannings and strategies adopted by the Indian nationalists in the freedom struggle." Indian revolutionaries, today, are remembered for their 'self sacrificing spirit' which inspired people through their bravery and heroism.
Saheed Sukhdev Thapar
May 15, 1907, marks the birth of one such great revolutionary, Sukhdev, whose name has been instilled in the history of the war of Indian Independence, along with Bhagat Singh and Rajguru. Shaheed Sukhdev Thapar was one of the most famous revolutionaries of the time, who is renowned for having being part of the killing of British Officer Saunders in order to protest the death of Lala Lajpat Rai.
Some facts about the young freedom fighter Sukhdev Thapar:
Since his childhood days, Sukhdev witnessed the brutal atrocities that the Imperial British Raj had inflicted on India, which then led him to join the revolutionaries, vowing to set India free from the shackles of British dominion
Sukhdev Thapar was a member of the Hindustan Socialist Republican Association (HSRA), and organised revolutionary cells in Punjab and other areas of North India
A devoted leader, he even went on to educate the youth at the National College in Lahore, greatly inspiring them about India's glorious past.
Sukhdev, along with other renowned revolutionaries, started the Naujawan Bharat Sabha at Lahore — an organisation involved in various activities, mainly gearing the youth for the freedom struggle and putting an end to communalism
Sukhdev himself took active part in several revolutionary activities like the Prison hunger strike in 1929; however, he would always be remembered in the chronicles of the Indian Freedom Movement for his daring yet courageous attacks in the Lahore Conspiracy Case that shook the very foundation of the British government
After the Central Assembly Hall bombings in New Delhi, Sukhdev and his accomplices were arrested and convicted of their crime, facing the death sentence as verdict
On March 23, 1931, the three brave revolutionaries, Bhagat Singh, Sukhdev Thapar and Shivaram Rajguru were hanged, whilst their bodies were secretly cremated on the banks of the River Sutlej
Shaheed Diwas 2022 Wishes
On the occasion of Shaheed Diwas, let us come together and celebrate the courage with which our soldiers lived their lives. Happy Martyrs Day.
Our martyrs will keep inspiring us for years to come and the occasion of Shaheed Diwas will keep us motivated to always keep our country first. Warm wishes on Martyrs Day.
Let us pray for our martyrs and their families as they are the ones who give India so much strength. Wishing a very Happy Shaheed Diwas to all.
Singh, Rajguru, and Sukhdev were detained and accused of murder while they continued to shout 'Inquillab Zindabad.'
They were executed in the Lahore Jail on March 23, 1931. Their cremation took place along the banks of the Sutlej River.
MARTYR'S DAY 2022: SIGNIFICANCE
The three freedom fighters, Bhagat Singh, Shivaram Rajguru, and Sukhdev Thapar (whose names are familiar to every Indian), were hung by Britishers on March 23.
These warriors battled for the well-being of others and gave their lives in the process.
Bhagat Singh, Rajguru, and Sukhdev have become sources of inspiration for many young Indians.
Their sacrifice inspired many others to come up and fight for their freedom even under British authority.
As a result, India has designated March 23 as Shaheed Diwas, or Martyr's Day, in honour of the three revolutionaries.